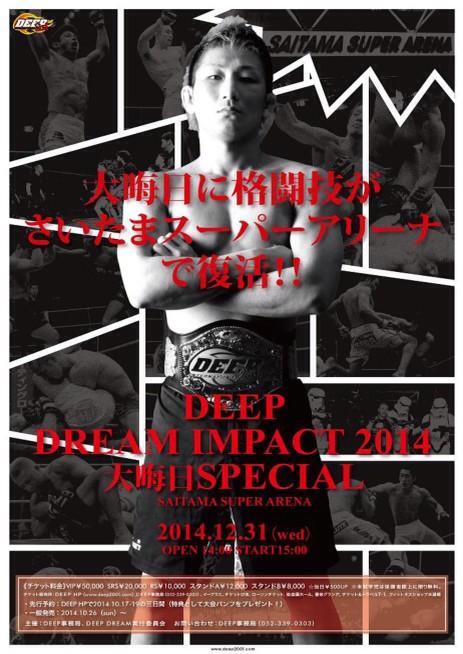 It was reported that DEEP boss Shigeru Saeki proposed an event for New Year's Eve in the Saitama Super Arena.  The New Year's Eve (NYE) event has been a long running traditional for Japanese Combat Sports as the tradition started in 2001 with Inoki Bom Be Ye 2001.  K-1 and Pride started to hold NYE events in 2003, K-1 Premium Dynamite 2003 in Nagoya and PRIDE Shockwave 2003 in Tokyo.  This tradition would run for 12 consecutive years before no major MMA promotion held an event on NYE in 2013.  IGF held a mixed Pro Wrestling and MMA fight card in 2013 that was headlined by a fight between Satoshi Ishii and Kazuyuki Fujita.
With only the IGF mixed card planned for NYE, Saeki made the decision to try and run an event on NYE in the Saitama Super Arena.  Saeki decided he wanted to run this event to fill the void and carry on the tradition of a major MMA event on New Year's Eve.  Shigeru Saeki mentioned adding DEEP Jewels fighters to the card to show the progress of martial arts today.  Saeki also proposed title fights and a possible co-promotion with other MMA promotions in Japan.  The event to be named "DEEP DREAM Impact".  Look for updates of the event as they are released here on FSA.
UPDATE:
As reported by GONG, DEEP boss Shigeru Saeki has officially announced "DEEP DREAM IMPACT 2014".  Announced for the card are Satoru Kitaoka, Yuki Motoya, Kazunori Yokota and Tatsunao Nagakura.
DEEP 70th Impact's Main Event headliner Kazuhiro Nakamura said he would like to fight on the event.  His fight at DEEP 70th Impact is scheduled for December 21st.